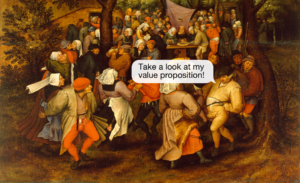 Thank to Slava Shestopalov, Designer @ ELEKS, for his « nerdy how-to, lessons-learned, tips-and-tricks, and opinion » story about Value proposition ! He writes : « Value = benefits - costs » and « value proposition is a combination of three key components« . We agree !!!
Readers may be interested to learn that this definition of Value = benefits - costs is at the root of product design methodologies since … 1947 !? Lawrence D. Miles wrote then the first article about 'Value Analysis'.
Slava also presents many ways to help designers articulate and formalize a value proposition : Geoff Moore's template, Venture Hacks' pitch, Steve Blank's XYZ, Vlaskovits & Cooper's CPS, David Cowan's pitch craft, Eric Sink's template, Guy Kawasaki's VAD and Alex Osterwalder's value proposition canvas.
Our readers already know that Value is at the root of many of the most effective corporate performance improvement methods, not only for product design (Moore's, Hack's …) and business models (Osterwalders') but IT (business analysis), processes (lean), strategy (blue ocean) etc.
Our collective book « Valeur(s) & Management » presented 22 of them (sorry, in French). The V&M LinkedIn group goes further by presenting (in English and French) Value-based methods (>120) and examples of application. Feel free to join : we'll of course create a link to slava's post.
Our V&M readers knows we develop a simple'meta-method' to apply this Value mindset to any (?) management issue :
What is it for ? leading to goals, and not why, leading to the answer 'because'
What is enough ? leading to minimze resources to achieve goals
Work WITH the stakeholders : to answer the 2 questions above and create synergies between them, while respecting each ones' own values
We also propose 'system modeling' as a very efficient tool to help users express their real needs, and suppliers check if their solution answers the needs with minimal resources.
All this is detailed in the book « What is it for? » recently edited in English.
Many thank to Slava for helping designers (re)discover the incredible power of the Value mindset. Maybe we (value methodologies experts) can collaborate to build bridges and synergies between Value(s) methodologies ?
Articles similaires