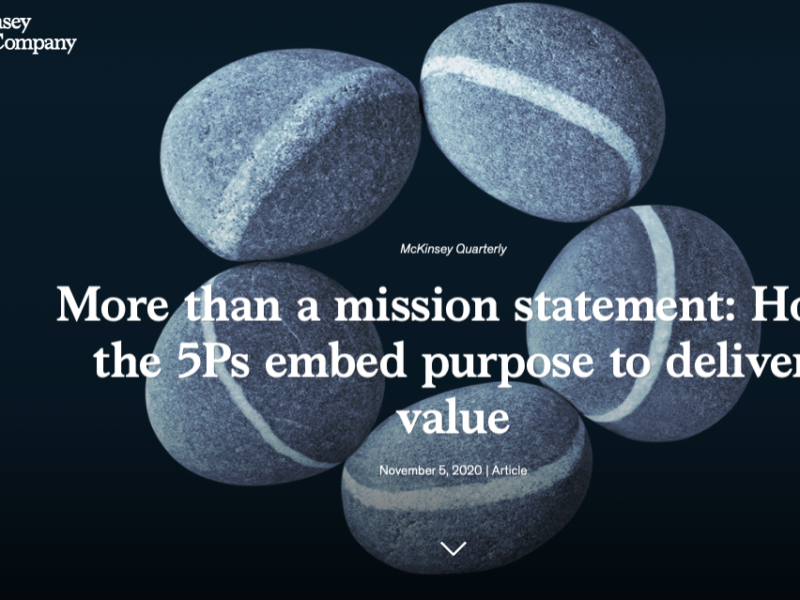 Thanks to #ThomasJeanjean, Dean for Post-Experience programs at ESSEC,  for signaling us a very interesting McKinsey Quarterly paper stressing the relevance of aligning all (well, 5 of them at least) corporate metrics to the company's #purpose. 
https://lnkd.in/dx3vR8C
« Your company's purpose strengthens resilience ans creates value – if it's genuine. A new framework highlights a detailed approach to embedding purpose across your organisation. »
The article proposes to develop the company's global purpose -its « raison d'être » (in French in their text)- along the classical 5 P's metrics.
Very nice ! Especially as defining the company's purpose seems not the most difficult part of the exercise -top managers and top level consultants told us- but its deployment across the company at each level …
I added a personal comment, coming from my own experience and the works of V&M network of experts :
Purpose should (and can) be delivered in EVERY decision and solution, by each actor at each level across a company, especially for 'complex' matters, by implementing 2 questions and 1 principle : 
1° « What is it for ? » (to define the 'local' purpose and link it to the 'global' raison d'être) ; 
2° « What is enough ? » (to minimize impacts) 
3° « work WITH the stakeholders » to answer these questions accurately
Let us not 'embed' the global purpose downwards, but 'define' the local purpose(s) and secure its alignment with other and higher company stakeholders purpose(s).
As our readers already know, this is implemented for dozens of years by thousands of people in all corporate performance sectors -even if a lot of them do not make it formally or even consciously …
Articles similaires
Olaf de Hemmer Gudme
Abonnez-vous à ce blog par e-mail.
Vos questions sur les démarches 'valeur(s)' ?